We think that building relationships with local businesses is very important; this is why we are regular contributors to #SussexHour, a weekly tweet chat that enables National Pallets to connect with other companies in and around Sussex. We answered a tweet from Factory Twenty One, a local eco-friendly household products manufacturer looking for pallets for a design project. We offered to help and after speaking with them directly, arranged for the delivery of some spare pallets to their workshop. We found their work fascinating so thought we'd find out a bit more and share what we discovered. We asked the firm's founder, Christopher Berry, a few questions…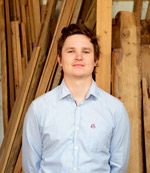 CAN YOU TELL US ABOUT FACTORY TWENTY ONE AND HOW THE COMPANY CAME ABOUT?
Factory Twenty One is a home accessories company based in Sussex, England. We make a range of original products including pendant light shades, coat hooks, key hooks and mail organizers – all from recycled materials such as pallets and oak. The oak comes from my father's company; I used to work there and the experience inspired many product ideas, so Factory Twenty One was born.
HOW DID YOU COME TO MEET NATIONAL PALLETS AND HOW DID THEY HELP YOU?
We met through Twitter; we put out a tweet asking if anyone had any spare pallets and National Pallets answered our call.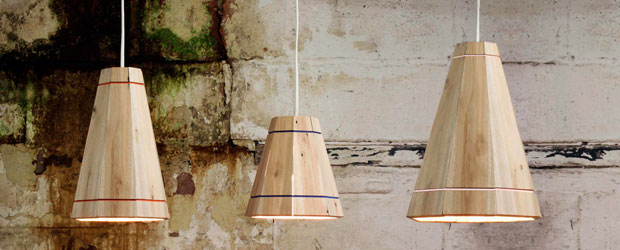 WHEN DID YOU START USING PALLETS IN YOUR DESIGNS AND WHY DO THEY MAKE GOOD RAW MATERIAL?
I had the idea of making furniture from pallets first but not long after I had the idea for pallet pendant shades and decided that these had more potential, so I focused on them. Waste pallets are a great source of material – it gives the wood a new lease of life rather than leaving it for scrap. Also, by recycling material in a different way, we can hopefully help people to see the potential that's out there.
CAN YOU NAME A DESIGNER WHO INSPIRES YOU AND EXPLAIN WHY?
There are many that I admire, but the main one that comes to mind is Dieter Rams. It's not just his designs that are inspirational but also his philosophy of design. His view on design is to keep it simple, which definitely has a bearing on my ideas when I'm designing.
YOU'RE EXHIBITING AT A SHOW IN LONDON SOON – CAN YOU TELL US ABOUT THAT?
Yes, it's an event called 'The Dock' and it takes place during London Design Week at Tom Dixon's store in Portobello Dock. Tom has selected six exhibitors from Etsy, the online marketplace for handmade or vintage items, and we are one of them. It takes place from 16-22 September and the whole of the West London canal-side estate will have a festive atmosphere with design, cuisine and commerce all featuring British-made products and crafts, so it's very exciting. It's open from 10am-6pm Monday to Saturday and 11am-5pm on Sunday.
WHAT ARE YOUR AMBITIONS FOR FACTORY TWENTY ONE?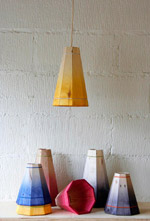 In the near future, I would like to add some more products to the collection and also possibly employ some staff to help. Also it would be great to open a café with the interior made from recycled materials and using Factory Twenty One's products.
We wish Factory Twenty One the very best of luck with their upcoming exhibition, which will take place at Portobello Dock, 344 Ladbroke Grove, London W10 5BU from 16-22 September. Take a look at their stunning portfolio of products on their website and connect with them via Facebook, Twitter and Tumblr.