France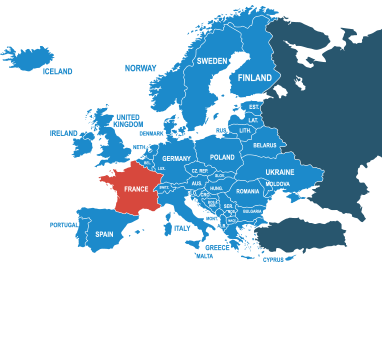 Whether you are looking to collect or deliver a pallet of goods to or from France, it's now extremely easy thanks to National Pallets. As part of the UK's largest pallet network, you can rely on our safe, secure and reliable service to and from France every time. With us there's no need for extra documentation and your pallet is treated in exactly the same way as though it was being delivered in the UK.
Through our consignment tracking facility, you can track the pallet from the minute it's collected to the minute it's delivered and we'll even send you an email informing you when the pallet delivery has been made.
Why not request a free online quote and see for yourself, just how easy it is.
Get a Quote
RESTRICTIONS ON DELIVERY PALLETS TO FRANCE
We are able to ship the majority of goods to and from France, however there are some exclusions, these are listed below.
Restricted Items to France include:
Pets, Powdered Infant Formula and infant food, Fish, Currency, Items made from protected animals
Prohibited Items to France include:
Unlicensed Firearms, Ammunition, Explosives, Meat & Milk from non-EU countries.
*Orders must be placed before 11 am if importing or exporting to France to qualify for quoted time scales. Prices quoted based on quarter size pallet with economy options selected. Delivery & collection prices subject to VAT.
Countries we deliver to
For information about services to a particular destination, please 'Click' on a country below.