Send a quarter pallet from £37.80 exc VAT
If you wish to send more than 10 pallets, please call 0345 260 1086.
*For height – please measure from the ground to the highest point of the goods.*
No Services
---
There are no services that collect and deliver to your selected countries.
Quarter Pallet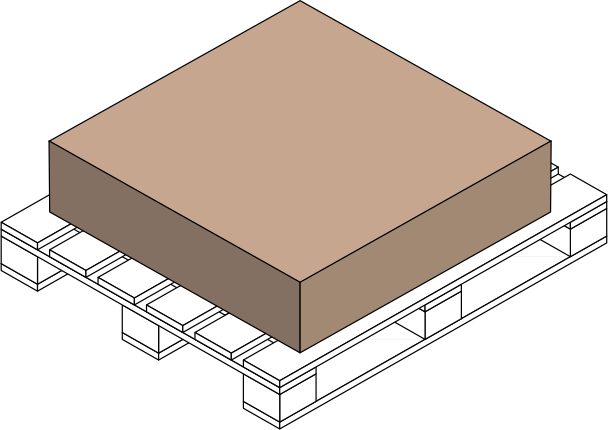 Length 120cm ┃ Width 100cm ┃ Height 80cm
Quarter Pallet
National Pallets is a company dedicated to making pallet delivery as straight forward as possible. Pallets come in standard sizes, however, we understand that you may not be shipping items large enough to fill the entire pallet, which is why we offer small pallet delivery.
Small pallets, also known as quarter pallets, fit within a standard sized pallet but only measure up to 80cm in height. By offering a small pallet size, we can offer you the best possible rate for your delivery.
Small Pallet Delivery Service
Small pallet delivery is available on all our services both in the UK and Europe. To get a quote, simply enter the details onto our website and we will work out the rest. To ensure you get an exact quote and check your delivery is suitable for a mini/ small pallet, measure your consignment correctly and consult our pallet size guide if you're unsure.
Click 'Get a Quote' and book your quarter pallet delivery with National Pallets today!
Get a quote
Pallet Prices
| Pallet Weight | Price |
| --- | --- |
| 250kg Standard Quarter Pallet | £37.80 exc VAT |
| 500kg Standard Half Pallet | £44.80 exc VAT |
| 1000kg Standard Full Pallet | £49.80 exc VAT |
What else do you need to know...

Do I need to deal with customs when shipping a pallet from the UK to Europe?
No. When sending within the European Union, your pallet delivery is treated the same as if you were sending within the UK, so you don't need to deal with international customs when sending your pallet.

How much does it cost to send a quarter pallet?
You can send a standard quarter pallet (up to 250kg) for as little as £37.80 ex VAT. For more information on pallet delivery prices, click here to get a quote.

How long will it take to deliver my pallet?
Standard delivery time to within the UK is two days, or a one day premium service is available. Within Europe delivery time will vary depending on destination, both standard and premium services are available. For an exact time frame enter the details into the quick quote tool.
What items can I send?
Before booking your quarter pallet, please ensure that you carefully read the following list of restricted and prohibited items:
Restricted items include:
• Appliances and Electronics must state the serial number, make and model on them
• New items (less than 6 months old) or items not showing any obvious signs of use
• Tobacco
• Antiques
• Alcohol & Wine
• Inheritance
• Works of Art
Prohibited items include:
• Narcotics
• Subversive Material
• Games of Chance or any gambling paraphernalia
• Perishable foodstuffs
• Firearms
• Explosives
• Ammunition and war instruments
Countries we deliver to
For information about services to a particular destination, please 'Click' on a country below.