Send a pallet to Ireland from only £95.53
Two-day premium delivery available
Consignment tracking from collection to delivery
Protect your pallet up to £25,000 with extra cover
If you wish to send more than 10 pallets, please call 0345 260 1086.
*For height – please measure from the ground to the highest point of the goods.*
No Services
---
There are no services that collect and deliver to your selected countries.
Pallet Delivery to Ireland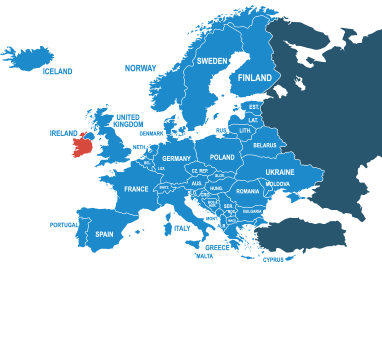 National Pallets makes pallet delivery to Ireland easy and straightforward. As the UK's largest online pallet distribution company, you can rely on a safe, secure and cost-effective pallet delivery service. Send pallets to Ireland and get a pallet quote!
Ireland is a small island in the North Atlantic, it is separated from the UK by the North Channel, the Irish Sea and St George's Channel. Its proximity to and long history with Britain has made it a key trading partner, which means shipping pallets to Ireland is in high demand. Despite being a fairly small island with a population of less than 5 million, Ireland has a strong import and export economy with its main traders are the USA, the UK, Belgium, Germany and Switzerland. When sending pallets to Ireland, you can be assured that your pallet delivery will arrive safely and on time with our excellent service.
Pallet delivery to Ireland has never been easier, so make sure you choose National Pallets for the best price. A leading pallet service that puts all customers first, building a long-lasting relationship for first-rate pallet delivery to Ireland. But there are a few things you need to consider before your delivery can be made:
Is this business to business? - When sending internationally, we can only export pallets business to business.
Do I have all the necessary information for the commercial invoice? - This includes Shippers VAT/EORI, Receivers VAT/EORI, Reason for Export, Signature from exporter and their position in the company. Providing these details when booking with us will prevent any delays when going through customs.
Does your recipient know you're using Direct Duties Unpaid (DDU)? - DDU means when placing your order, all duties and taxes are applied by customs in the destination country. We do not pay the duties and taxes for any pallets leaving the United Kingdom, this will be the responsibility of your recipient to communicate with the local customs and ensure all additional fees are paid.
Is the contact information for your recipient correct? - It's important that the contact information of your recipient is correct when booking with us. Local customs will use this information for duties and tax payments.
Would someone be there at both collection and delivery point to assist the driver? - Drivers will not pick up or drop off a pallet unless instructed to. A signed consignment note is required to say the pallet has been picked up and delivered.
You can track your pallet delivery and find your item's current whereabouts with the quick and simple tracking tool.
Why not get a free quote and see for yourself just how easy it is to send a pallet to Ireland?
If you need some extra assistance with your delivery, we're happy to help! See more information on sending a pallet internationally or contact us via email, phone and live chat.
Get a Quote
Pallet Prices
Parcel Weight
Price
250kg Standard Quarter Pallet
£104.29

exc VAT

500kg Standard Half Pallet
£116.89

exc VAT

1000kg Standard Full Pallet
£133.69

exc VAT

150kg Standard Mini Quarter Pallet
£95.53

exc VAT
What else do you need to know...
Do I need to deal with customs when shipping a pallet from the UK to Ireland?
Yes. When you ship a pallet to Ireland, your shipment will be subject to customs regulations and fees. National Pallets will send you all the documentation you need once you complete your booking with us. Find out more on Ireland's Customs website.
How much does it cost to send a pallet to Ireland from the UK?
You can send a mini quarter pallet (up to 150kg) to Ireland for as little as £95.53 ex VAT. Get a quick quote to see how much you could save.
How long will it take for my pallet to be delivered to Ireland?
Standard delivery time to Ireland is 3 days, but a premium 2-day delivery is also available. Orders must be placed before 11am if importing or exporting to Ireland to qualify for quoted timescales.
What items can I send?
We are able to ship the majority of goods to and from Ireland, however there are some exclusions, these are listed below.
Restricted Items to Ireland include:
Powdered milk for babies/food for children and special medical food (including pet food) that need to be refrigerated prior to use
Coats, fur and leather shoes made of protected animals
Alcohol - An inventory must detail exact number and size of bottles, exact alcoholic strength in percent and value of each bottle
Carbon paper, except for type writer carbon paper that must be described on the customs declaration as follows 'Typewriter carbon paper coated with wax and containing no oxidizable or fatty substances'
Importation of teas is subject to certain customs regulations
Fruit/vegetables and other food stuffs
Plants and seeds and certain pharmaceutical products are subject to special regulations.
The following are subject to quota regulations and require an import licence:
Boots and shoes
Brushes
Electrical lamp bulbs
Screws
Tapered thread
Felt hats and caps
Brushes and mops
Wheaten flour and any commodity or product of wheat
Rubber proof wearing apparel
Sparking plugs and component parts
Silk and artificial silk hose and certain woven fabrics
Prohibited Items to Ireland include:
Protected animal species i.e. Ivory, Tortoise Shell, Coral, Reptile skin
Wood from the Amazonian forests
Arms and weapons
Hay/Straw including articles made of straw
Human remains
Live plants or animals
Peat moss litter except under licence
Prison made goods
Safety fuses
Fireworks
Tobacco
Cigars or Cigarettes packed with other articles
Cut and compressed/sweetened or adulterated tobacco
*Orders must be placed before 11am if importing or exporting to Ireland to qualify for quoted time scales. Prices quoted based on quarter size pallet with economy options selected. Delivery & collection prices subject to VAT.
Countries We Deliver To
For information about services to a particular destination, please 'Click' on a country below.