At National Pallets, we like to think that our commitment to customer care marks us out from our competitors. For our regular customers, this means understanding their business needs and helping them maintain or improve standards of service to their customers. For our 'Inside Track' blog posts, we'll be featuring some of our customers and asking them a few questions to find out more about their businesses, their thoughts and inspirations and share what we discover. First in the spotlight is Auto Finesse, auto car specialists and suppliers of paint care products and a wide range of detailing services
CAN YOU TELL US ABOUT AUTO FINESSE AND HOW THE COMPANY CAME ABOUT?
Auto Finesse is a vehicle detailing company based in Hertfordshire. We have been detailing cars since 1999 and in 2011 we expanded into the supply of detailing products with the launch of our new range. We have a wide variety of products including bodywork shampoos, wheel and tyre cleaners, polishes, waxes, sealants, glass sprays and trim-dressing products. All of our solutions have been formulated to ensure quality, usability and effectiveness and then tested in our own detailing workshops. Here at Auto Finesse, we believe we have created the very best detailing products specifically for detailers, by detailers.
HOW DID YOU COME TO MEET NATIONAL PALLETS AND HOW DID THEY HELP YOU?
We came into contact with National Pallets simply through the use of Google. We were searching through Google to find a palletized freight delivery service that suited us, and we found National Pallets. We chose them initially because of their same-day collection service, the ease of use of their website and, of course, their competitive pricing. National Pallets have provided a great service to us and to our customers. The level of service they offer to our clients reflects directly on us and we have been very happy with everything they've done, as well as with all of the extra help and advice they've provided.
CAN YOU TELL US WHAT INSPIRED YOU TO BECOME DETAILING FANATICS?
Cars can be truly beautiful objects. To a genuine petrol head, nothing is more exciting than when a vehicle combines engineering expertise with sleek design. The difference between great and perfect is all in the details - getting them right however, results in a finish you can't take your eyes off of. In fact, for us, it's heartbreaking to see an otherwise wonderful car with a bad paint job. Truth be told, vehicle detailing is a kind of obsession with perfection.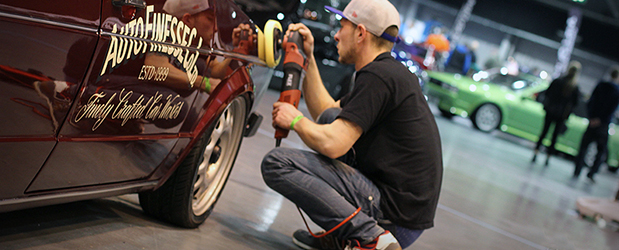 ARE YOU EXHIBITING AT ANY EVENTS THIS YEAR?
We exhibit and trade at over 40 car shows and events through out the year, from small county car club meets right through to the largest shows on the show car calendar. We have a couple of exciting events this year. We sponsored the Unphased show at Worden Park in Leyland on 25 May. This is an event for German vehicles and there's a hotly contested Show 'n' Shine competition, with trophies up for grabs and great prizes donated, of course, by Auto Finesse.
Then on 7 and 8 June we'll be exhibiting at the French Car Show at Castle Combe Circuit in Wiltshire. This is a great event with a real festival atmosphere and the opportunity for owners to take their cars for a spin on the track. We've been attending these specialist owner events for a number of years now, as they provide the perfect target audience for our products and help to raise both brand awareness and brand loyalty.
WHAT ARE YOUR AMBITIONS FOR AUTO FINESSE?
The company is constantly evolving and moving forward with what's happening in the Automotive world, finding solutions to care and clean the latest finishes and materials that are used on vehicles will always be at the forefront of what we do, as will staying true to how we began, as hands on detailers, every member of staff here knows and loves detailing cars, the products and the community that surrounds it. We want to expand this further and are constantly looking for like minded individuals from other countries and markets to join our reseller, wholesale and franchise model. To be recognised as the leading professionals in the industry is our goal.