Send a pallet to Slovakia from only £361.47
Premium delivery services available
Consignment tracking from collection to delivery
Protect your pallet up to £25,000 with extra cover
If you wish to send more than 10 pallets, please call 0345 260 1086.
*For height – please measure from the ground to the highest point of the goods.*
No Services
---
There are no services that collect and deliver to your selected countries.
Pallet Delivery to Slovak Republic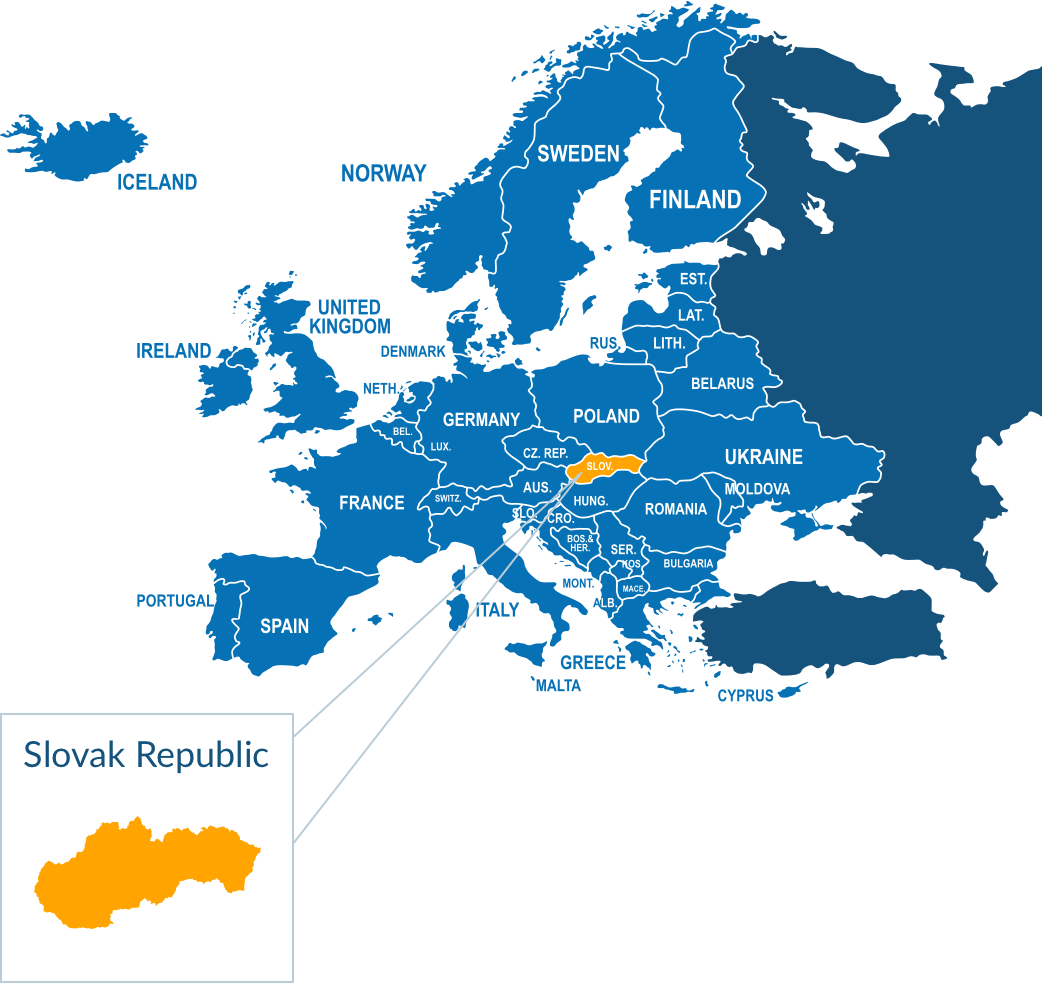 Pallet delivery to Slovakia has never been as easy as it is with National Pallets. Whether it's simply a few boxes or a large piece of machinery, we can provide you with a safe and secure pallet delivery service to and from Slovakia.
Slovakia is a fairly small republic in Central Europe, with a population over just over 5.4 million. It is surrounded by Poland, Hungary, Austria and the Czech Republic, have a strong trade partnership with all these countries including the UK. The main items Slovakia export are machinery, electrical equipment, base metals and Chemicals. The capital of Slovakia is Bratislava.
As part of the UK's largest pallet network, you can rely on a safe, secure and reliable service to and from Slovakia every time.
Through our consignment tracking facility, you can monitor your pallet from when it's collected to the moment it's delivered, and we'll even send you an email informing you when pallet delivery has been made.
Be sure to check out all our pallet delivery services and cheap delivery prices - simply request a free instant online pallet quote by using the quick quote option on the right and send a pallet to Slovakia today!
Get a Quote
Pallet Prices
Parcel Weight
Price
250kg Standard Quarter Pallet
£361.47

exc VAT

500kg Standard Half Pallet
£424.21

exc VAT

1000kg Standard Full Pallet
£517.44

exc VAT
What else do you need to know...
Do I need to deal with customs when shipping a pallet from the UK to the Slovak Republic
No. As Slovakia is a member of the European Union, you don't need to worry about dealing with international customs when shipping your pallet.
How much does it cost to send a pallet to the Slovak Republic from the UK?
You can send a standard quarter pallet (up to 250kg) for as little as £361.47 ex VAT. For more information on pallet prices and dimensions, click her to get an instant quote.
When should I book to ensure the most efficient delivery?
Orders must be placed before 11am when importing and exporting to Slovakia to qualify for quoted time scales. Standard delivery is typically 7 days.
What items can I send?
We are able to ship the majority of goods to and from the Slovak Republic, however there are some exclusions, these are listed below.
Restricted Items to Slovakia include:
Alcohol: An inventory must detail exact number and size of bottles, exact alcoholic strength in percent and value of each bottle
Tobacco
Tea/Coffee
Toilet water
Perfumes
Food stuff in large quantity
Electronic items: computers, media (CD's, Videos, DVD's, Blue-rays etc) and Stereos must show serial number and provide proof of purchase date
Large amounts of handcrafts, Aerosols and hazardous goods in certain quantities
Prohibited Items to Slovakia include:
Firearms, ammunition and explosives
Drugs and Narcotics
Live Plants
Pornographic material
Radioactive material
Any protected animal or species i.e. Ivory, Snakeskin, Leopard Fur
Absinthe, Methyl alcohol and pure alcohol
Wine, Grape Juice and other various food stuffs in large quantity
Paintball guns and air soft rifles
Orders must be placed before 11am if importing or exporting to Slovakia to qualify for quoted time scales. Prices quoted are based on quarter size pallet with economy options selected. Delivery and collection prices subject to VAT.
Countries We Deliver To
For information about services to a particular destination, please 'Click' on a country below.