Pallet Delivery to Austria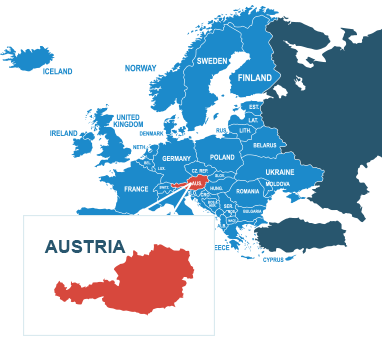 Pallet delivery to Austria has never been as straightforward as it is with National Pallets. Whether you're sending a small item or a large piece of machinery, we can provide you with a safe and secure pallet delivery service to and from Austria.
Today, Austria is a parliamentary representative democracy comprising nine federal states. The capital and largest city, with a population exceeding 1.7 million, is Vienna. Austria is one of the richest countries in the world, with a nominal per capita GDP of $46,330. Since Austria became a member state of the European Union, it has gained closer ties to other EU economies, reducing its economic dependence on Germany. Having said that, German influences can still be seen throughout the country including the official language and their transport system, which features the highly efficient Autobahns.
Your pallet is treated as though shipped within the UK and therefore requires no extra documentation or customs charges. With selected services from the UK taking as little as 2 days, pallet delivery to Austria on a deadline is easily possible. Plus, using our consignment tracking facility, you can track the pallet all the way to delivery.
Why not request a free online quote and see for yourself just how easy it is to send a pallet to Austria?
Get a Quote
RESTRICTIONS ON DELIVERY PALLETS TO AUSTRIA
We are able to ship the majority of goods to and from Austria, however there are some exclusions, these are listed below.
Restricted Items to Austria include:
Alcohol,Tobacco, Tea, Coffee, Perfumes Foodstuffs in large quantity. Aerosols, Hazardous goods in certain quantities.
Prohibited Items to Austria include:
Narcotics, Subversive Material, Perishable foodstuffs, Firearms, Explosives, Ammunition and war instruments.
*Orders must be placed before 11 am if importing or exporting to Austria to qualify for quoted time scales. Prices quoted based on quarter size pallet with economy options selected. Delivery & collection prices subject to VAT.
Countries we deliver to
For information about services to a particular destination, please 'Click' on a country below.