Belgium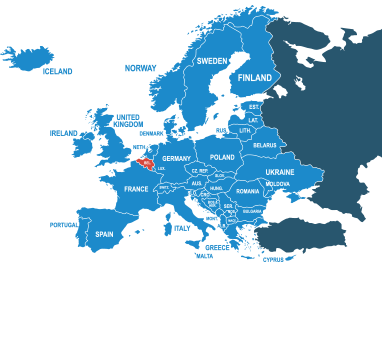 Pallet delivery to and from Belgium has never been so easy and straight forward as it is through National Pallets. Whether its a small pallet of tiles or large pallet of boxes, we are here to help. We provide a fast and efficient service to all the major towns and cities in Belgium. The goods are treated in exactly the same way as they are in the UK with no extra documentation required or customs to pay. You just place your order and let us handle the rest.
Using our tracking facility, you even can track your pallet all the way, from the moment it is collected right up until it arrives at its destination.
Get a Quote
RESTRICTIONS ON DELIVERY PALLETS TO BELGIUM
We are able to ship the majority of goods to and from Belgium, however there are some exclusions, these are listed below.
Restricted Items to Belgium include:
Items made from Animal e.g Leather, Furs, Alcohol, tobacco products and foodstuffs, New items (less than six months old) subject to duty, Electronic/electrical equipment/appliances coming from non-European countries may require modifications in order to use them, Telephones and fax machines generally do not need modifications, but do require approval by Customs, Plants and vegetable products, Presents and souvenirs subject to duty.
Prohibited Items to Belgium include:
Explosives, Firearms, Animal Products, Currency, Pornographic paraphernalia, Drugs and Narcotics
*Orders must be placed before 11 am if importing or exporting to Belgium to qualify for quoted time scales. Prices quoted based on quarter size pallet with economy options selected. Delivery & collection prices subject to VAT.
Countries we deliver to
For information about services to a particular destination, please 'Click' on a country below.