Pallet Delivery to Latvia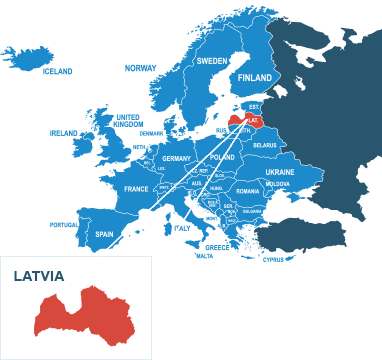 Pallet delivery to Latvia is now extremely easy thanks to National Pallets. As part of the UK's largest pallet network, you can rely on a safe, secure and cost-effective service to and from Latvia every time. With us your pallet is treated in exactly the same way as though it was being delivered in the UK- with no extra shipping documentation required or customs charges to pay.
Through our consignment tracking facility, you can track the pallet from the minute it's collected to the minute it's delivered, and we'll even send you an email informing you when the pallet delivery has been made.
If you require expedited pallet delivery, Latvia can be reached in 2 days using one of our premium service options.
Why not check out all our pallet delivery services from the UK to Latvia? Simply request a free instant online pallet quote by using the quick quote option on the right and send a pallet to Latvia today!
Get a Quote
RESTRICTIONS ON DELIVERY PALLETS TO LATVIA
We are able to ship the majority of goods to and from Latvia, however there are some exclusions, these are listed below.
Restricted Items to Latvia include:
Alcohol: An inventory must detail exact number and size of bottles, exact alcoholic strength in percent and value of each bottle. Tobacco, Tea, Coffee, Toilet waters, Perfumes Foodstuffs in large quantity. Electronic items: Computers, Media (cd's, videos dvd's blu-rays etc and Stereos, must show serial number and provide proof of purchase date). Large amounts of handcrafts, Aerosols, Hazardous goods in certain quantities.
Prohibited Items to Latvia include:
Firearms, Ammunition, Explosives, Drugs and Narcotics, Live Plants, Pornographic material, Radioactive material. Any protected animal or species ie. Ivory, Snakeskin, Leopard fur. Absinthe, Methyl alcohol and pure alcohol. Wine, Grape juice and other various food stuffs in large quantity. Paintball guns and airsoft rifles.
*Orders must be placed before 11 am if importing or exporting to Lativa to qualify for quoted time scales. Prices quoted based on quarter size pallet with economy options selected. Delivery & collection prices subject to VAT.
Countries we deliver to
For information about services to a particular destination, please 'Click' on a country below.