Denmark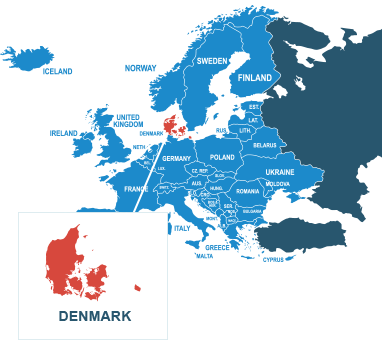 Pallet delivery to and from Denmark has never been so simple or cost effective as it is through National Pallets. We offer a fast and efficient service at competitive prices to all the key cities and principalities in Denmark. We provide a 4 day premium service and a 6 day economy service, dependent on how quickly you require your pallet.
The process is treated in exactly the same way as a pallet delivery within the UK with no extra shipping documentation required. You just place the order with us and let us handle the rest.
Using our state of the art tracking facility, you can track your pallet all the way, from the moment it is collected right up until it arrives at its destination. We will even notify you by email once the delivery has been made. By tracking your pallets, we can ensure that you always know where your pallet is and that it's safe and secure in our hands.
Why not request a free online instant quote now and see for yourself just how easy it is to send pallets to and from Denmark.
Denmark is a Scandinavian sovereign state in Northern Europe and they have one of the most competitive economies in the world. They have been very influential in the shipping industry with the design of the largest and most energy efficient container ships in the world and as a result their export and import traffic has increased significantly.
Get a Quote
RESTRICTIONS ON DELIVERY PALLETS TO DENMARK
We are able to ship the majority of goods to and from Denmark, however there are some exclusions, these are listed below.
Restricted Items to Denmark include:
Antiques, Fur, Psychotropics, Non prescription Medicines, Tinned goods, Watches
Prohibited Items to Denmark include:
Gold & silver bars, Plants, Asbestos Fibres, Thermometers containing Mercury and Fresh Food
*Orders must be placed before 11 am if importing or exporting to Denmark to qualify for quoted time scales. Prices quoted are based on quarter size pallet with economy options selected. Delivery & collection prices subject to VAT.
Countries we deliver to
For information about services to a particular destination, please 'Click' on a country below.