There is so much to admire about upcycled furniture. Whether you need to save money or just add some personal style, pallets are a great way to add a unique feature to your home. Remember, one person's recycled armchair might be another person's DIY disaster, everyone is different.
Recycling has become very popular across the globe, with people wanting to build their own furniture more and more. Recycling pallets is helping towards sustainability and ensuring carbon emissions are decreasing. Building your own furniture out of pallets is the way forward!
At National Pallets, we want to bring you the most innovative ways to use pallets and here are 10 unique ways you can use them in your home...
What is a Pallet?
A pallet is a wooden platform used in warehouses for storing or shipping large materials. You can turn pallets into just about anything if you are imaginative. However, it is important to know a little bit about the pallets you are using.
Pallets can be exposed to harsh chemicals, bugs or even mould, so it is best to clean them up and determine their origin before you use them in a project. The best and safest pallets to use are the ones that come from dry goods industries, so that's a good place to start.
Click here to check your pallet safety.
Once you have your pallets, the possibilities are endless. Here are some unique ideas for pallet furniture that will inspire you:

1) Pallet Storage
Everyone needs long-lasting storage so why not use a pallet?

2) Pallet Wine Bar
Be creative with spare pallets by constructing a pallet wine bar. All you need is 2 pallets, 3 pavers and some white paint.

3) Pallet Day Beds
You can make a beautiful swing bed made from only a pallet and rope. If you are looking to build a double mattress on the pallet, check out Mandy from Merry thought for the full tutorial.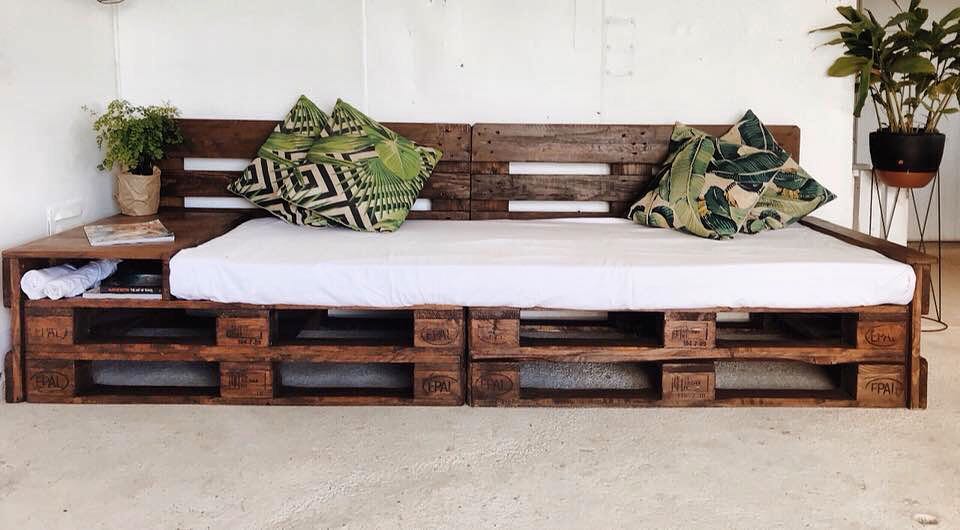 4) Pallet Bedside Table
Another innovative way to use pallets.

5) Pallet Bathroom Decor
Is your bathroom in need of some pallets? Pallets can be a great way for bathroom storage.

6) Pallet Dining Tables
If you're looking for an inexpensive way to dine, a pallet dining table could be the solution. Make sure you sand the wood really well and put some coating on it to protect it for longer.

7) Pallet Staircases
An interesting way to use pallets but looks very unique if created in the right way.

8) Pallet Green Houses
Want to improve your garden decor? A greenhouse constructed out of pallets is guaranteed to turn some heads!

9) Pallet Chicken Coops
Building a pallet chicken coop could be a very inexpensive way of keeping your chickens happy.

10) Pallet Kennel
Everyone needs a home, so why not build your dog a kennel made out of pallets. An inexpensive but stylish way to keep your dog warm.

Conclusion
Pallets have many uses and clearly, they are not just for sending items! Being creative with your recycled pallets can pave the way for sustainability and help decrease carbon emissions.
Click here to get a free quote from National Pallets and see how much you could save!